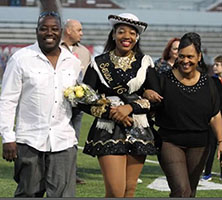 It is not easy being a high school student. It can be difficult and stressful at times to manage everything that is going on. In addition, if a student has a job it can make things even more hectic. Some students do not have the right skills in order to manage their time, while others embrace the challenge. Senior Skylar Scott is part of the group that takes the challenge head on and excels in everything she does.
Scott has a job and is involved in extracurricular activities while still being able to get good grades and have a social life. Scott works at Taco Bell and has been involved with powerlifting since her sophomore year and drill team since her junior year.
"I work anywhere from twenty-five to forty hours a week," Scott said. "Sometimes I have to try and not talk myself out of it."
Scott is  able to keep up with everything by staying organized. Her advice for other students with a lot on their plate is to make a schedule.
"It's very hectic, you should plan out all of your schedules ahead of time so you are able to see what is going on," Scott said.
When things get stressful it is important to stay upbeat and not give up. Scott sometimes has negative thoughts and even thinks about quitting every once and a while. If Scott is feeling stressed out, she tries to have an open mind about her situation.
"Keep a positive mind set," Scott said.
If staying positive is not enough to keep the stress away there are other alternatives. One alternative that Scott uses is to go out with friends to relax and take her mind off things. Another good way to eliminate stress is by talking to people who care about you.
"Talk about your problems and get help from people that are going through some of the same things you are," Scott said.
Scott knows how to manage her time well and handle all the stress in her life.