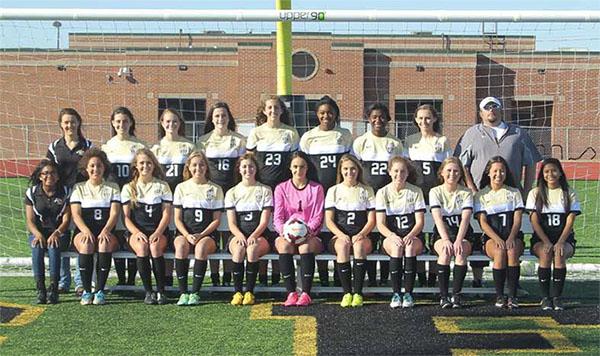 Kicking it into Gear
February 9, 2016
The Lady Tiger soccer team is back and they are coming in strong. They are kicking into season with a strong wins over Katy Taylor High School and Arlington High School.
On January 13th, junior Hannah Webb verbally committed to OSU because of her performance on the MHS soccer team. Committing, whether signing the papers or a verbal commitment, is a very important step in an athlete's life. Especially if the opportunity arises as a junior, when most colleges scout the soon to graduate seniors and seldom juniors.
Webb's commitment should go to show how much talent is on our Lady Tiger's soccer team, who's season has started off with wins over Legacy High School and many more to come. "I think we're going to win district, and make it far into playoffs. Our team is a lot stronger this year than it was last, and we have better chemistry on the field," junior Avery Underwood said.
Getting in shape for a game like soccer is tough because of the sheer endurance needed for the full game. Not all the athletes play the entire game time, but sophomore Hannah Mullins explains that they train to where they could gain that ability.
"We have a lot of conditioning that we have to do. We have practice everyday even over breaks, so we that's pretty much all the time. Which includes lots of conditioning, our skill drills and weight room every week, and those sweet recovery days after the games is all we get off," Mullins said.
With every team, there are strong points and weak points. For the Lady Tigers, the strong points are plentiful according to senior Stefanie Grba, "I think we're a lot more than last year, with a new coach we split up between groups last year, this year we are all on the same page and have one goal in mind."
Webb has this to say about the team's few weak points, "I think we're a young team. We graduated a lot of seniors last year, we haven't played together much because of that, but it's an easy problem to fix for a good season."
The Lady Tiger's next game will be at Mansfield High on Friday, February 12 against South Grand Prairie at 8:00 pm.