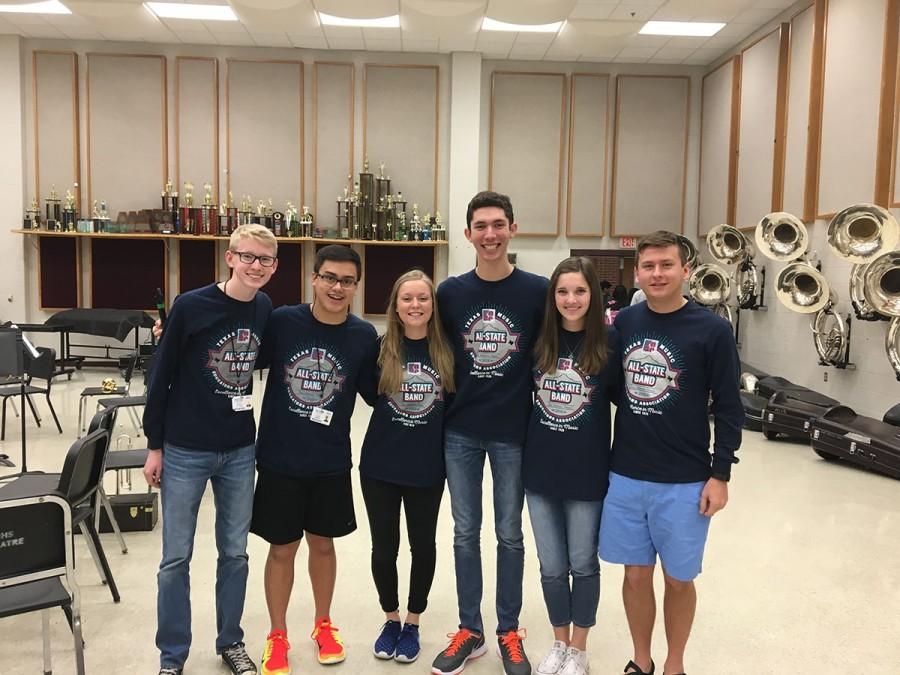 All-State Members Attend TMEA Clinic
February 19, 2016
This year, Mansfield had six students make All-State: seniors Jack Sparkman, James Melfi, Elijah Imbong, Katie Lingren, and Rachel Militzer, and sophomore Rylan St. Clair. This past week they attended the TMEA All-State clinic in San Antonio.
"We took a plane with like thirty All-Staters from our district to San Antonio," senior Rachel Militzer said. "We got there and we had some down time before our chair placement audition. The audition was three hours long. Then we had rehearsals every day for the rest of the week. I think we had a total of eighteen hours of practice with our bands divided over three days."
The rehearsals were rigorous and intense, since the members have to only a few days to perfect multiple pieces for a big concert at the end of the week.
"Rehearsals at State suck," senior Elijah Imbong said. "You basically eat, sleep, and rehearse. That's literally your schedule. You have four hours of practice in the morning, three more after lunch, and then two more after dinner. It was crazy."
Despite being long and difficult, the rehearsals challenged the members' abilities and helped them improve their skills.
"It was really neat to be at a clinic at the All-State level," senior James Melfi said. "Most of the time whenever we go through a piece at the Region level, the clinicians have to stop a lot to make sure everyone has a good understanding of how the piece works, but at All-State it was different because we were able to get through the whole piece really confidently. It was like everyone already knew their part because they were all really good. We all had the same tone and matched each other really well."
In between rehearsals, the members had time to eat and visit the massive convention center, where they could meet famous musicians  and composers and try different instruments.
"My favorite part of the entire trip was getting to go to the convention center and playing on instruments that I won't get yelled at for playing back home," Imbong said. "I got to try a contra, which is like a marching tuba, and I also got to play on percussion instruments because I got a pair of drumsticks."
At the end of the week, the All-Staters put on a massive concert for band directors, friends, and family from all over the state.
"Getting to come together with amazing musicians from all over Texas and making music together was really memorable for me," Militzer said. "Getting to perform in the performance hall was amazing. It was huge and beautiful, with three stories. It was great to play with such talented musicians."