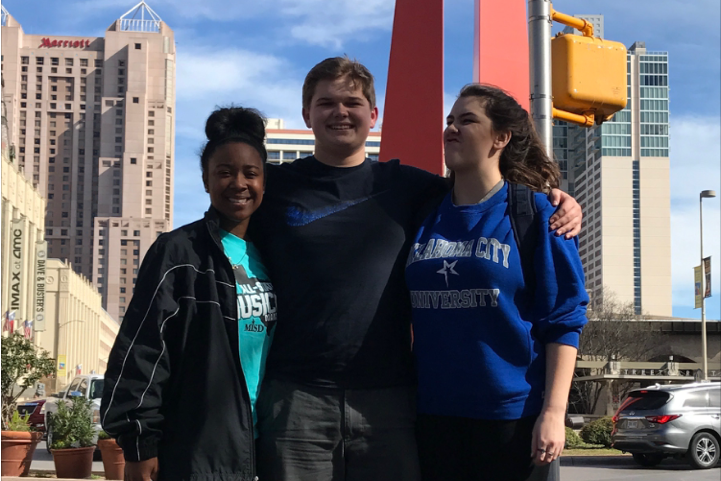 February 8, unbeknownst to a large majority of our school, Caden "Cade" Puempel, Anyse Dawson, and Shelby Priddy, flew out to San Antonio and performed in the All-State choir, the highest honor a Texas music student can receive. The audition process takes a similar form to the play-offs of any sport: there are four audition rounds, having to impress the judges more and more each round. After the fourth round if you are in the Top 10 female or Top 8 male singers you make the All-State choir. Cade was the MHS representative for the All-State men's choir, while Anyse and Shelby sang with the mixed choir, both male and female singers.
Making it through all four rounds is no easy feat, and the amount of time that the singers put into the audition music really stacks up on them.
"You put in your entire summer, and you put in a majority of your first semester. Some people can practice more than others, but you can end up putting in 12-13 hours a day, just on music. It's an accomplishment, but your hard work pays off," All-State qualifier, Anyse Dawson, said. "I worked on it during school, and at home, I may be exaggerating those numbers but the point is it is a lot of hard work," Dawson said.
The opportunity to audition for the All-State choir is a fantastic opportunity for many students and for the MHS choir.
"I believe that the process, and the way it makes kids work harder for something than they have ever worked for something in their life, the passion it creates in these kids is a great example of why we shouldn't cut the funding of music from schools," senior choir singer, Shelby Priddy, said.
Choir, while not being the most well-known organization, is just another name on the list of programs this school excels at.
"It means that our choir program is prestigious, it holds us to another level, and that our school has many leaders in multiple organizations," first Tenor 1 qualifier ever, Caden Puempel said.
The singers expressed some heartache that making the state level for choir isn't as celebrated as a sport, even when they work just as hard in their respective fields; but in no way does that take away from the amount of history these three made this year. Cade is not only the first Tenor 1 singer to qualify for the All-State choir in MHS history, he is also the first male qualifying singer for the current director, Reginal Wright.
"Hopefully I can lead other people into achieving the same accomplishments," Puempel said.
Also a first for Mr. Wright, Shelby Priddy is his first three time All-State qualifying singer.
"When I made All-State freshman year, it became my biggest high school goal to make it all 4 years while I'm here. I actually didn't make it my junior year and it was devastating but it made me want to try harder for my last year." Priddy said.
That motivation payed off greatly since there wasn't a qualifying singer for our school last year.
"This year was a good comeback year, because it has been the most all-staters to make it in 5 years," Dawson said.
After the competition the singers were able to come back home February 11, with their heads held high after a busy trip, and were finally able to relax after the 9-month All-State season.