Nine MHS Students Will Perform with Kristin Chenoweth at November Concert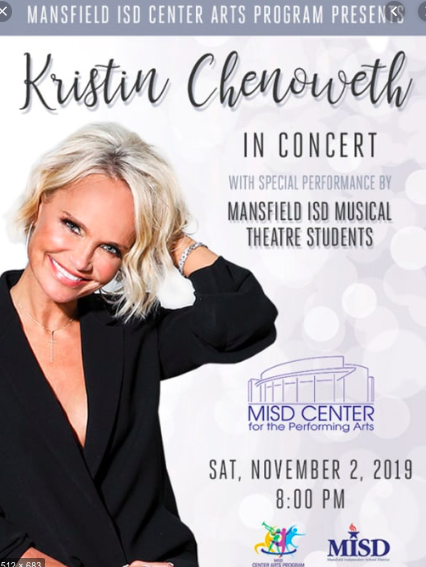 To get the chance to perform with Emmy and Tony Award-winner Kristin Chenoweth, MISD high school students auditioned in early September and those who were chosen by the judging panel will open the show and provide backup vocals for her at a community concert at 8 p.m. Nov. 2 at the Performing Arts Center. 
"I've had a lot of theater experience, but never had the chance to work with someone who's had Broadway experience and is extremely well-versed in what they are doing," senior Colby Jones said. "I'm very interested in seeing how the process and the high-speed, high-intensity rehearsal will play out."
The audition process consisted of performing two songs of contrasting tones, for example, an upbeat song and a slower song.
"I used 'What's the Use in Wonderin' and "Beyond My Wildest Dreams,'" junior Kaylee Coyne said. "I auditioned so I could hopefully work with other super talented musical theater and show choir kids in the district and be able to gain more experience in a place I hope to major in."
Conversely, though Jones does not plan to become a professional actor, he said he has been a fan of musicals since he was young. He recalls listening to the "Wicked" soundtrack, in which Chenoweth was part of the original cast as Glinda, and also remembers watching her guest appearances on "Glee."
"She is very nice and does a lot of outreach with kids and so I said I wanted to work with this person," Jones said. "Though I don't want to do theatre as a profession, I definitely wanted the experience just to have for my own art."
Of those who auditioned for this opportunity earlier in the month, the judges selected 58 singers, nine of whom are MHS students.
"Being selected means the world to me," Coyne said. "Not only do I get to see amazing, talented people I met in the summer musical, but I'm also able to build more experience for my resumé and in general."
Until the day of the concerts, these students will have regular rehearsals Fridays and Saturdays at Summit to ensure they are prepared, not only for the performances with Chenoweth, but also as they progress in their theater goals.
"I plan on doing theater for many years, particularly musical, so this will really help prepare me," freshman Sophia Drago said. "I want to try my best to get into Carnegie Mellon, which has a really great musical theater program."
Drago said she has been doing theatre her whole life and has high hopes for this event.
"I want to gain experience mainly," she said. "Experience is everything in musical theatre. Also, I am a very extroverted person, so I love making new friends."
Leave a Comment