September Tiger All-Stars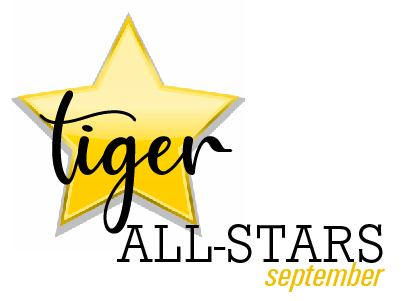 Hang on for a minute...we're trying to find some more stories you might like.
Each month, teachers select one student from their classes to give their Tiger All-Star award to. This is a big deal, and shows that your teachers really do pay attention. Congratulations to the following students!
| | | | |
| --- | --- | --- | --- |
| Month | Student Full Name | Teacher Full Name | Class Name |
| September | Nevaeh Allen | Coach Boydstun | Biology |
| September | Celeste Alvarenga | Ms. Alvarado | Student Aide |
| September | Ti'Nya Anderson | Mrs. Trotter | AVID 3 |
| September | Cade Breedlove | Mrs. Monroe | Office Aide |
| September | Kelsey Carrillo | Coach Thibert | Teen Leadership II |
| September | Colleen Clinton | Mrs. Boydstun | AP English IV – Literature & Composition |
| September | Megan Cotter | Mr. DeLong | Art 2/Ceramics 2 |
| September | Ronni Cuanang | Madame Foster | French III pre-AP |
| September | Johnathan Dang | Mr. Withers | AP World History and AP Art History |
| September | Victoria Delatte | Coach Harman | Geometry |
| September | Veronica Escobedo | Mrs. A (Hardin) | Pre-AP Biology |
| September | Hannah Farnan | Coach Blanchard | World History |
| September | Jadyn Ferguson | Mr. Waldmann | Algebra 2 |
| September | Dakota Froelich | Ms. Gable | English 2 |
| September | Leah Gano | Mrs. Henry | English IV |
| September | Thomas Gordon | Mr. LTC Easley | JROTC |
| September | Delaney Gossell | Mrs. Martinez | Office Aide |
| September | Finnegan Grob | Mr. Riley | AP World History |
| September | Emily Hardin | Mrs. Bridges | PAP English II |
| September | Grace Haskins | Mr. Bowling | US History |
| September | Holden Hatfield | Ms. June | AP Physics 1 |
| September | Tommy Hawkins | Coach Dashner | Pre-AP BIology |
| September | Taivion Hogan | Mrs. Hoyle and Mrs. Watson | Office Aide |
| September | Benjamin Jackson | Mrs. Adams | Algebra 1 |
| September | Olivia James | Mrs. Hill | Pre-Ap Geometry |
| September | Zyon Johnson | Ms. Moseley | Astronomy |
| September | Alton Jones | Ms. Knight | Geometry |
| September | Caitlin Kennedy | Mr. Bertucci | Math Models |
| September | Caitlin Kennedy | Mrs. Hamilton | Statistics |
| September | Wahid Khazem | Mrs. Clark | AP Statistics |
| September | Parker King | Ms. McClendon | English II |
| September | Diana Klein | Mr. Kadekawa | AP Physics 1 |
| September | Justin Kutrybala | Mr. Rodgers | Pre-AP English I |
| September | Kaitlyn Lee | Mrs. Barbour | Office Aide/Haygood & Vopal |
| September | Karla Leon | Dr. Andrews | Concert Choir |
| September | Karla Leon | Mrs. Roland | Biology |
| September | Cesar Lopez | Mrs. Berney and Mrs. Server | Office Aide |
| September | Kaitlin Martin | Mr. Barrett | Astronomy |
| September | Brady Millstid | Coach Kaiser | Algebra I |
| September | Brayden Monroe | Mrs. Del Valle | Attendance |
| September | Leiyah Morris | Mr. Roberson | Geometry |
| September | Dylan Paez | Mr. Reynolds | English II |
| September | Troy Patterson | Coach Richmond | PE |
| September | Abigail Pfanstiel | Coach Kinnel | JROTC |
| September | Alexandra Pool | Coach Cobb | Virtual Business |
| September | Madison Puckett | Ms. Witherspoon | Pre-AP Algebra 2 |
| September | Michael Rabel | Ms. Parsons | Office Aide |
| September | Ameerah Raines | Mr. Lujan | Pre-AP Chemistry |
| September | Ella Robertson | Mrs. Rizzo | Algebra 1 |
| September | Nia Russell | Mrs. Whiting | English I |
| September | Abigail Salem | Mr. Cameron | Algebra II |
| September | Nolen Santiago | Ms. Moline | Interior Design |
| September | Patrick Simmonds | Mr. Thorley | Online Class |
| September | Matthew Skinner | Mr. Morrison | Pre-AP Pre-Calculus |
| September | Ramyiah Starks | Coach Elrod | English I |
| September | Ethan Tave | Mrs. Shanahan | Algebra 1 |
| September | Emma Taylor | Mrs. Garrett | Precalculus |
| September | Daniela Villeda | Ms. Richards | World History |
| September | Savannah Wester | Coach Walker | Physics |
| September | Avery Wheeler | Mrs. Maness | Pre-AP Biology |
| September | Asia Williams | Coach Trotter | Strength and Conditioning |
| September | Cameron Williams | Coach Speakes | Boys Basketball |
| September | Naia Williams | Coach Patton | Girls Basketball |
| September | Jewel Wong | Mrs. Byrum | AP English III |