Teachers get Creamed for Toys-for-Tots
November 20, 2015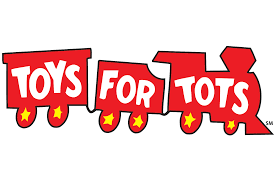 After raising almost 150 toys, the first week of the Toys-for-Tots campaign came to a close with Friday's exciting pep rally; the main attraction being two of the staff members getting a pie in the face. In the running for the teachers was Mrs. Martinez, the restaurant management teacher.
Martinez thought the campaign was worth it, and even prodded her students to donate toys.
"I kind of joked with the kids a little bit and I was like 'Why aren't y'all putting toys in my box? Don't you want to see me get a pie in the face?' And they always say, 'Well, no, you're nice; we don't want to throw a pie in your face,' and I didn't think they were going to think about it like that. I thought they were going to think 'Oh, I have her as a teacher, I want to put it in her box, it'll be funny,'" Martinez said.
Martinez was not the least surprised when Mr. Ludlow had the most donations, thanks to her students in band.
"All the kids were talking about it was going to be Mr. Ludlow and I have a lot of band kids, so they were ready to get revenge," Martinez said."It's football season, he's been working them hard, so I thought it was worth it."
Mr. Ludlow was surprised with his students' achievements, although he had to get a pie in the face because of it.
"This is the second time I get pied, this time was a little bit different because the pie was much more thick. It was a thicker pie so it stuck and it got into all of the crevices and it was hard to get out of the eyebrows and ears," Ludlow said. "Surprisingly, it smelled really bad. That whip cream. I went home and showered and I could still smell it all day. It was gross."
A surprise to her, Ms. McMullen had the highest number of donations by Friday throughout the assistant principals. Students donated almost one-third of the gifts to Ms. McMullen's donation box.
"Ms. Young had some intensity behind it, but at least it tasted good cause it was whip cream but it took forever to get it all off," McMullen said. "I felt like I smelled like curdled milk for the rest of the day even though I took a shower."
The assistant principals hardly even knew what the boxes in their offices were for; no one told them they had the possibility of getting a pie in the face, according to assistant principal Mr. Vopal.
"It was a surprise to us, but you know if I would've won I would've taken one for the team," Vopal said. "I've been pied numerous times in my assistant principal career, so it wouldn't have made any difference to me one way or another."
The Toys-for-Tots campaign does not end until December 9th and Ms. McMullen is now handing out coupons for a free Chick-Fil-A sandwich for any toy donation.