Review: Bethlehem Revisited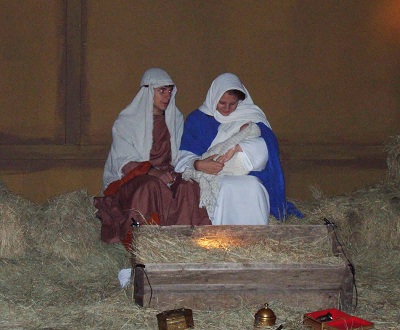 Hang on for a minute...we're trying to find some more stories you might like.
With the holidays in full swing and Christmas on the way, families around the area are searching for fun activities to do together. The Bethlehem Revisited is a completely free and fun thing to do with your friends and family. Located in Waxahachie, Bethlehem Revisited is a historical reenactment of the night baby Jesus was born that takes place December 5-7 and 12-14 from 6pm-9pm.
The entire town of "Bethlehem" is set up full of replica shops, markets, and inns. Actors dressed up as people from the time period work the shops and wander the streets, interacting with visitors of the town. Live animals, such as sheep, goats, chickens, camels, and donkeys are brought in to give it an even more authentic feel. All through the night, visitors can follow the nativity story as they watch the full reenactment of Mary and Joseph's journey through Bethlehem, all leading up to baby Jesus being born in the manger.
Going to Bethlehem Revisited has been a tradition in my family for years. We go every year, and it's an enjoyable experience every time. It's so neat to get to walk through the town, and it feels like you've traveled back in time to the actual night Jesus was born. There are different shops that sell different items, and as you move through the town, you can stop and watch people making pottery or dying cloth or crushing grapes for wine. Roman guards wander around, bossing visitors around and keeping order in the town. All of the actors get completely into character, pointing at cameras with confused looks, asking what they are, or asking why a girl of my age ,seventeen, isn't married yet. They're extremely entertaining to interact with.
Overall, Bethlehem Revisited is a wonderful place to attend, especially with families. There's something for everyone, from age three to sixty-three. It gets you in the Christmas spirit, and reminds you why we have Christmas in the first place. It is a must for any family this holiday season.