Students perform "A Christmas Carol"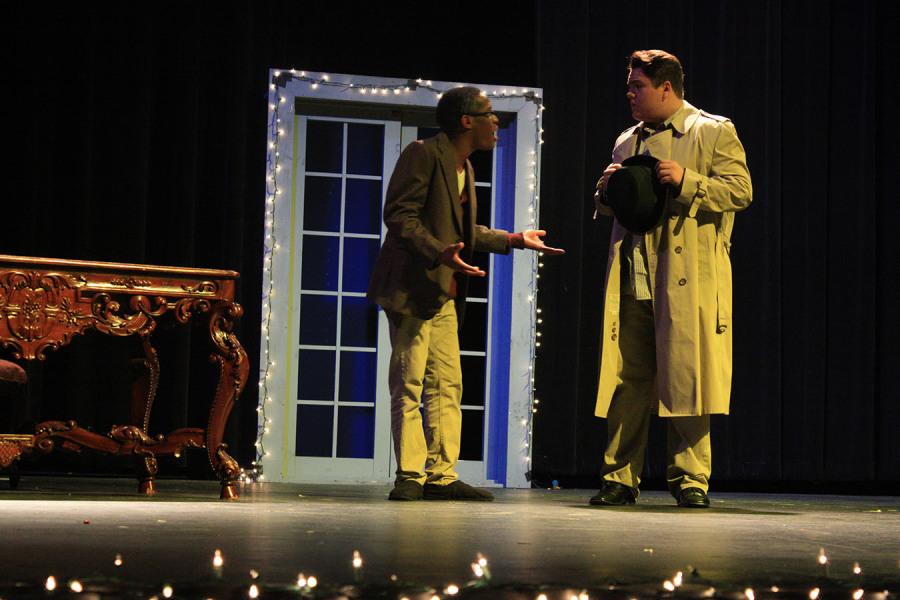 Danielle Cunningham, Staff Writer
December 10, 2014
Last night Mansfield High's theater members put on their student-directed production of the classic story of A Christmas Carol. Admission was a $2 donation at the door or you could bring in a toy for the Toys for Tots drive. They were able to raise over $100 in donations for charity as well.
"This is my first play to direct," said senior Haley Harmon. "I've had to do a lot. With directing comes a lot of responsibility. I mostly only had class time to make sure the actors knew their blocking, cues, and characterization.For a lot of it I had to do on my own time beyond the classroom, like finding the right sounds and recording the lighting cues. All of us have put in a lot of work. I'm thankful for everyone that helped with the process."
The cast took their audience through the past, present, and future of Ebenezer Scrooge's life and all of the twists and turns that usually go along with the story. Each cast member did a great job in playing their role and making the story come to life. This one-night-only play was great and helped bring the Christmas spirit to Mansfield!
Below is the list of the cast members that participated in the play.
Narrator: Erin Wilborn
Ebenezer Scrooge: Justin Aloze
Bob Cratchit: Kyle Pearson
Charity Laclies: Reagan Gerdes
Marley's Ghost: Hunter Ginn
Ghost of Christmas Past: Grace Stobbs
Scrooge as a boy: Frederick Ewelike
Franny(Scrooge's sister): Anna Pritchet
Scrooge as a young man: Evan Meyers
Ellen(Scrooge's fiancé): Becca Swan
Ellen's husband: Zach Singleton
Ghost of Christmas present: Maddie Cunningham
Ghost of Christmas yet to come: Collin Clark
Mrs. Cratchit: Kat Toledo
Cratchit girl: Anna Pritchett
Cratchit Boy: Brandon Clavillo
Martha Cratchit: Erin Wilborn
Tiny Tim: Matt Shank
Nephew: Garret Cobb
Nephew's wife: Claire Van Arsdale
Ignorance boy: Brandon Clavillo
Ignorance girl: Anna Pritchett
Merchant 1: Taylor Hampton
Merchant 2: Tyler Beckett
Merchant 3: Haylie Hatfield
Rag seller: Kyle Dietrieck
House maid: Savannah Wilmot
Girl in Sunday clothes: Anna Pritchett