District Approves Senior-Painted Parking Spaces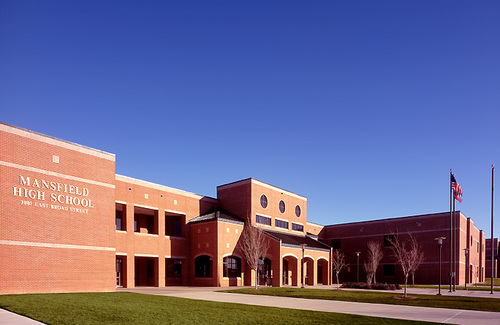 Editor's note: Because of inclement weather, painting dates have been changed to September 15 and September 22.
Seniors can begin painting their personalized parking space in the west student parking lot Saturday after the school board approved the StuCo fundraiser proposal this summer.
"I persistently e-mailed (the board) saying this was really meaningful to my committee, that I would like give them the opportunity to see what I was dreaming of," junior class President Katelyn Terry said. "During the meeting I hit a lot of points that we heard were the negatives in the past and so I hit on why and how we can fix those. I feel like that was the main reason we got this to happen."
To help ensure order in the painted slots process, the school board set up certain guidelines that include paint types, fees and incorporating one of the district's Vision 2020 statements into the design.
"The seniors are also required to use our school colors – black, white, grey, gold – along with one additional color of their choosing," StuCo Adviser Ryan Golden said. "They will also need to have their templates approved by myself and Mrs. Haygood on the morning of Sept. 8 before they can begin painting."
The fee to reserve a parking space is $50, and students will also need to supply their own latex-based paints. These funds will go to StuCo to use toward their goals this year.
"As a student council, we were the ones who fought for it, and our entire goal is to then pour back into the student body," Golden said. "We want to try to get a speaker to come so we can have a student body assembly."
Terry said she began this proposal after hearing her church friends talk about their personalized parking spaces at their schools.
"It's always been a dream since I was younger, and growing up I saw all my friends getting to plan what they wanted to put on theirs," she said. "Ever since then, I've always dreamed of having that my senior year. It just took this year for me to step aside with Ms. (Jennifer) Young and say this is what I really want to do. She gave me the greatest support I could ever ask for."
Both Terry and Golden said they hope this brings out a positive impact on the school.
"One of my biggest things at Mansfield is that I really want kids to get involved," Terry said. "I think it's very important to be part of a club or sport, and this is a way to really show your uniqueness in what you are involved in and what you love. I'm hoping that (the students) can put that into the parking spots and it will grow from there."
Golden said it is also important to expand over the years and reach a larger percent of the senior class.
"My biggest hope is that the tradition of having personalized parking spaces grows," she said. "I hope we are able to keep providing more spots because this year we only had about 160 available, and close to 600 seniors. We would like to see more of them involved in this moving forward."
Assistant principal Jacquetta Haygood also said this is a great way to make senior year more memorable.
"When students come to school, they can see that they were able to leave their mark, and also share their story through their painting," she said. "They get to have a personal part of their life as part of the school. Our slogan is that 'Every Story Matters,' and this allows them to feel that they truly do (matter)."
Golden said she hopes students will fully accept this new tradition, but recognizes not everyone will be on board.
"There are some people who think this will make our school look bad because of the varying paintings and styles, which may take away from the aesthetics of the building," she said. "There are other students who are concerned about finding the money to pay for a slot and get the materials. There are also always going to be the issue of students who will take it the complete opposite way and complain no matter what."
Another concern for some students is that the only spaces currently available to buy and paint are on the far west end of the school.
"I'm involved in band, so (buying a space) isn't for the placement necessarily," senior Maddie Marsh said. "It's not very convenient, but that's not enough to stop me from participating."
Still, Marsh said she looks forward to this and being able to share her story with her peers.
"I wanted to be a part of the group to establish the tradition of painting the parking spots and make it the best it could be," she said. "I want to paint my monogram in the middle, then use purple as an accent color to decorate with music notes to represent band."
Leave a Comment