District Approves Two Early Release Days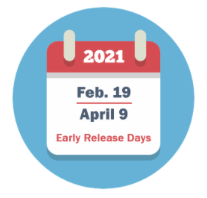 After the school board meeting Dec. 15, the district approved two early release days on Feb. 19 and April 9 to allow teachers time to finish or catch up with six weeks grades.
"We know that teachers (have) so much going on this year," Principal Trent Dowd said. "The district wanted to give them just a little bit of time back to get everything ready, get all the grades compiled and be good to go."
Dowd said he prefers half days over full teacher work days.
"I think the half days are the best idea, simply because if you do a full day you get that one time," he said. "If we do half days we can use those right at the end of the six weeks and give teachers a little more time and get grades ready and loose ends tied up for the end of the six weeks. And so by doing two half days, we can do that twice instead of just once."
On the other hand, English teacher Kenia Hinton said she is concerned that shifting to half days might not allow enough time for productivity.
"I would definitely want a full day to work, just because I could leave when I am finished," she said. "However, a half day would be nice but I'm just not sure that a half day would be enough time to actually get all of our work done."
Although Hinton said she would prefer a full teacher work day, she thinks early release days will be beneficial to both teachers and students.
"The half days would just be relief of having the whole day to do whatever it is that you want to do," she said. "I can grade papers if (needed), go home to sleep or even go to the dog park with my puppy so he can have some fun during the day. For students I think it's beneficial because they get a mental health break from school. Students feel drained and just allowing them to be out of school a little earlier will make any student happy."
Junior Gabby Johns said she thinks the early release days will be helpful for teachers.
"They'll have time to grade everything and won't be in a rush," she said. "And then they have more time to plan out lessons."
Dowd said it is okay for teachers to bring their children to school on the half days.
"I've already told teachers that if they need to go get their kids and keep them up here while they finish up their work day that's okay," he said. "Our big push this year is just reminding everybody that this is a family environment and sometimes you (have to) have a family here. On special circumstances like this, I've given them permission to actually have their kids in a classroom while they're working (and) getting things wrapped up."
On the early release days school will be from 7:25 a.m.- 11:25.a.m. The district, however, is still tweaking the schedule.
"There are so many different pieces to it that it's kind of challenging," Dowd said. "We have to take into consideration that some kids go to Ben Barber, some kids stay here all day, some kids will need to eat lunch before they leave and some kids will even need to maybe take a lunch home. I don't have any concerns. There are just still some things that we're trying to nail down to make sure that it's a very smooth day for everybody."
Leave a Comment