College Football vs. High School Football: Aggie Edition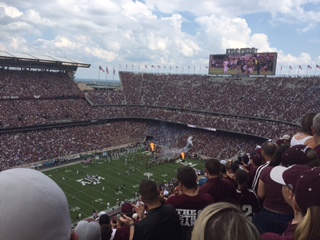 Hang on for a minute...we're trying to find some more stories you might like.
There are many similarities between MHS football and A&M football, such as a fun student section and dedicated fans. However, there are distinct differences that make the two almost impossible to compare.
At every home game at Kyle Field, tens of thousands of Texas A&M alumni turn out to support their football team. Whether the chances of winning are high or low, Aggies from all over the place will be there to carry out their duties as the 12th man.
Student from the class of 1989, Lisa Mire said, "I love coming back so much because it feels like home. It's such a positive and friendly environment to be around."
The A&M community is like a giant family, so its no surprise that previous students love returning to the good ol' college days, even if it's only for one football game.
Texas A&M has a handful of unusual traditions, such as Midnight Yell Practice and the yells performed by fans during the game, and these traditions do not exclude yell leaders. While most football teams have cheerleaders to stand on the side lines to cheer on the team and pump up the crowd, Texas A&M instead has yell leaders. Yell leaders serve the same purpose that cheerleaders do, except they are comprised of all males, they don't cheer, and they don't wear cheerleading outfits. They instead lead the student section during games, giving signals to do certain yells.
The main difference between the marching band at A&M and other marching bands is that to be in the band, you have to also be the in the corps of cadets. The corps is more or less ROTC. They have drill instructors, they have to wear an ROTC- like uniform, etc. This tradition stems from the school's military background and its beginnings as an all male military college.
The differences between Texas A&M and every other school make it stand out and make it a unique choice for all who go there. But these differences call for a familiar yet new experience from what most Mansfield High School students are used to.