Author Review: Rupi Kaur
My Thoughts on the "Queen of Instapoetry"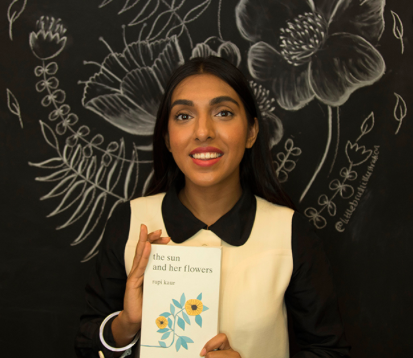 Author Rupi Kaur has been greatly praised for her two books, and as an avid reader, I just had to read them for myself. And after reading both Milk and Honey and The Sun and Her Flowers, I can definitely stand by what I had heard. 
Kaur's works are at the forefront of Instapoetry, a new genre of short and easily accessible poetry that is particularly popular among young people. Some poems contain as few as five words, others spread across three pages; some tell a life lesson, others tell a story. No matter the length, however, her words cut deep and mean a great deal. In each book, she discusses difficult topics such as immigration, sex, abuse, violence, love, loss and femininity. These are topics that go completely unmentioned most of the time, yet they happen all the time. Kaur is the voice of those who are voiceless. Within the near-200 pages, there is seemingly a poem for every mood, experience or event. Additionally, she uses her own art to fill the pages and though some call it messy and meaningless, it really just takes another look to fully understand her intentions. 
Though I have not experienced things as serious as immigration or abuse, I can relate to much of what she writes, and I believe that is a true talent to have as an author. Her words resonate in me and make me realize the values of my life, and even what I have taken for granted. I think the more people who read her books, the more people will understand the world on a deeper, more complex level. However, I think some are scared to see what she has seen, so they choose to ignore the issues, especially those coming from an Indian woman. Nevertheless, her gender and ethnicity should not matter; it is the words that flow from her that matter and that is what I have always believed of any author. 
I recommend this author and her two best-selling books to anyone. The depths to which you can read, understand and interpret this book are endless, and it all depends on the mind of the reader to heed what knowledge and experience Kaur has to offer.
Leave a Comment