Black Out or Back Out
The Beginning of the Tradition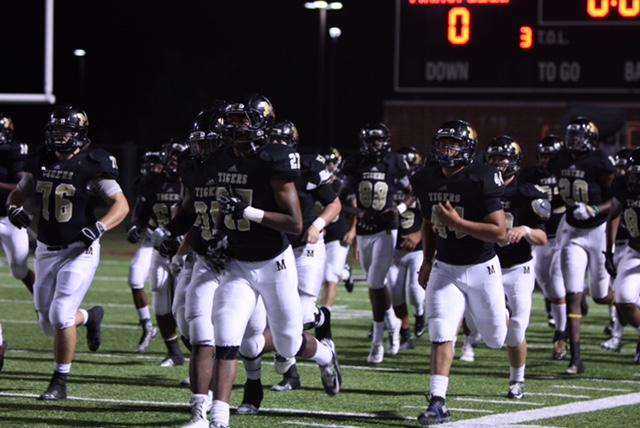 Kennedy Ragsdale, Staff Writer
September 11, 2015
In case you haven't noticed from the boys with black paint on their faces or the girls sporting black tutus, today is the infamous Black Out day at Mansfield High.
Students show school spirit to encourage the football team to beat their rival, the Summit Jags, by covering head to toe in black and this tradition has been going on for nearly a decade.
"The first year we played Summit, they beat us. And they were so prideful that they kept the score on their marquee for almost 6 weeks," journalism teacher Deborah Watson said.
Considering the five year reign of victory, Summit has not been able to brag about field play in a long while, but it hasn't always been that way.
"The last several years has been one of the longest streaks." English 4 teacher, Ryan Golden said. "It used to be that one year we would win the canned food drive and lose the game and the next year it would be the opposite. You never know what will happen on the field or with the canned food drive."
Black Out started in September of the 2006-2007 school year with the hopes that it would be celebrated like Maroon Out at Texas A&M.
"Black Out is the one day that everyone participates and is on the same page," principal Jennifer Young said. "Mansfield High students have great school spirit at the pep rally and the football games."
Black Out is one of the school's favorite theme days.Students get very excited and love to dress up and show their tiger pride.
"It makes Mansfield seem more like one powerful entity than a spread 2000+ students," Senior Class President Vishal Singh said. "It truly brings our inner heart out since the whole school is determined to beat Summit."
According to rumors around Mansfield and Summit, this will be the last Black Out game for the rivals.
"This is one of the games that has led this school in spirit and tradition over the years," Golden said. "I doubt this would be the last one because we will always find another school that we are rivals with if we don't play Summit anymore."
If the rumors are true and this is the last Black Out against Summit, students will go out with a bang on the field and in the competition of collecting cans for the can food drive.