College Corner: Angelo State University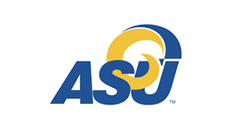 Hang on for a minute...we're trying to find some more stories you might like.
Angelo State University was founded in 1928 and since then it has been a place where many students love to call home. It is also a part of the Texas Tech University systems. Angelo State offers more than 100 student organizations, so its students can find a place to belong and interact with other students. Almost three out of every four students will get some type of finical aid. Also, the class sizes are small with an 18:1 student-to-teacher ratio. So, if students are looking for a school that will help save money while also learning, then Angelo State could be a great option.
Location: San Angelo, Texas
School Colors: Blue and Gold
Mascot: Dominic the Ram
Tuition: $7,864
Room and Board: $7,702
Campus Size: 268 acres
Most Popular Majors: Business, Management, Marketing, Psychology, Agriculture, Multi/Interdisciplinary Studies, and Agriculture Operations
Famous Alumni: Grant Teaff, Pierce Holt, Jim Morris, Bill Erwin, Rick Green, Luci Christian, Troy Fraser, Ken Kennard, Jenny Lawson, Dane Krager, Mike Jinks, Marcus Hubbard, Shockmain Davis, Jaramie Richardson, and Morris Overstreet