Movie Review: Frozen II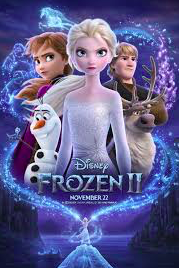 While Frozen II was well done in terms of visual production and lyrics, I would say the movie did not meet my high expectations. Maybe it is because I am older, since the first time I watched the original Frozen movie was in sixth grade. Naturally, opinions and views changed once five years passed. I had moved on from most of the animated TV shows and movies. Despite the fact that Frozen II is a children's movie, I still wanted to see it because I like Disney movies.
One of the first things I noticed was that Olaf was starkly different from the gullible, adorable snowman I remembered years ago. Though he does add humor to the movie, I admired how the movie creators changed him into a more mature, intellectual over time. I couldn't help but relate to him with myself as he paralleled with the children who watched Frozen I when it first came out in 2013 because they grew mentally too.
In terms of art, the songs were great and the lyrics fit the plot perfectly. A major difference that stood out was how the new songs were not as catchy as the original. However, I also cringed at some of the songs, not because there were terrible singers, but because characters like Kristoff, who typically did not sing, sang. I, however, attribute that reaction as a sign that I was too old to like some parts of the movie. As for animation, lighting, etc, Disney did a wonderful job as usual.
I also liked how this movie was more mysterious and added suspense. It created a new feeling the original Frozen did not have much of. There was an interesting plot with the sisters trying to discover their parents' secret journey that ultimately cost lives. There was also tension and drama as Elsa tried to overcome the waves of the sea and save Arendelle from being destroyed. Overall, the plot was well-done and kept me interested in the movie.
While Frozen II may have not met my expectations, I would still recommend it to those who are younger and have not already seen it. As for the future, I do have high hopes for the newest Disney princess movie, the live-action Mulan coming this spring. I will for sure see that.
Leave a Comment