Editorial: Should Athletic Teams Continue Practicing?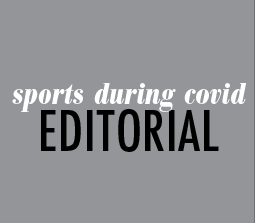 After the UIL mandated strict practice schedules and safety parameters for members and Tiger athletic teams began summer conditioning, many students, staff and community members are still against this and think all practices should stop until the threat of COVID-19 lessens or a vaccine is introduced.
Tiger athletics should continue to practice and prepare for a regular season because it promotes a sense of normalcy and will help to secure student success. 
By hosting summer conditioning and team practices, the athletic department demands a return to normal life. While it is not normal for students and coaches to wear masks and maintain social distancing, it is the safest way to continue moving forward. For some students, high school athletics is their primary source of physical activity, especially when gyms were closed or restricted. For the sake of their health, it is beneficial for students to be able to get back to school-related athletics and continue to build strength, endurance and overall physical fitness. This sense of normalcy and return to a consistent routine is highly effective in maintaining students' well being, both physically and mentally. 
Additionally, it is important for the senior athletes to continue to hone their skills for college scouts. For some students, their future relies on getting scouted and signed to a college team. If there are no practices or games this season, that sets them completely off track. Not only this, but it is important to ensure students are getting their money's worth. For each sport, athletes and parents invest time and money, and fees for equipment and uniforms can get expensive quickly. If there is no hope for college signing, that investment seems wasteful. 
Though the pandemic is still rampant in the DFW area and chances of catching the disease are higher now that students are back to practice, the school continues to work to provide the safest options possible. For example, each piece of equipment is sanitized often and students are required to wear masks any time they are not physically working out (when lifting, running, etc.) and maintain a 6-foot distance from each other. Additionally, each athlete is expected to take their temperature before attending practice and know to stay home if they have a fever. Therefore, while it may not be ideal circumstances for some, the athletic departments ensure they follow the strict guidelines and work for the safety of each athlete.
The risk of contracting the disease is still present under any condition. It is unreasonable to expect students and athletes to remain quarantined until the end of this pandemic, so the best option is to attempt a return to normal life and be mindful of the circumstances. However, any parent or student who is still fearful can choose to stay home and opt out of the season until they feel more comfortable.
Students and parents should discuss the best option for their health to determine whether to continue with athletics this season. Meanwhile, students who have returned for practice should continue to maintain safe habits during this time.
Leave a Comment