Football Team Produces Tiger10 Videos to Introduce Players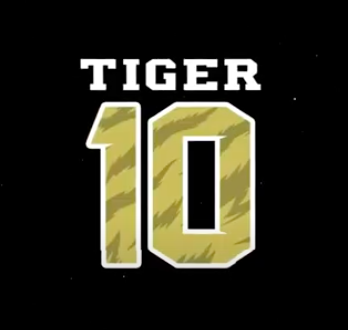 To help students get to know the varsity football players, Coach David Ellis creates Tiger10 videos each week by interviewing players and uploading them to social media.
"My ultimate hope for the Tiger10 videos is to create a sense of community with the people outside of football and in the community," Ellis said. "I want the fans in the stands to feel a relationship with the team that they are cheering for on Friday nights and I want the community involved. Plus, it's always fun to know answers and opinions to goofy questions."
After many years playing and coaching football, Ellis took on the position of freshman head coach and assistant soccer coach. In addition to his coaching role, he is also the content creator for the team's social media.
"I've always been in love with team sports and the comradery behind achieving one goal; I hope to be a leader for the athletes and a counselor to them in life more than just sports," he said. "The athletes love the attention and shoutouts from our social media and it's my job to help them be recognized by others so that they may reap the benefits of hard work."
After practice, Ellis and the chosen player of the week go to the MAC Team Room to begin the interview. Then, he uses various Adobe platforms to complete the video.
"I typically contact the athlete the day before I am going to interview them, just to give them a heads up, but I don't give them a preview of the questions because I want to capture their immediate and genuine answer," he said."I always want to make the interviewee comfortable so I set up how it would work and tell them that we're simply having a conversation. I record the entire interview in one take and let them know they can take as much time as they want to answer the questions."
Senior and captain James Windsor was the first player featured on Tiger10 in August.
"The thing I like most about the videos is that it gives the fans and community a chance to actually get to know the players they are actually cheering for," he said. "I definitely notice more people around school and around town know my name and I like that I can feel friendship with people I'm unfamiliar with."
Along with the recognition, senior Donerio Davenport said the video impacted his social life.
"I loved the whole thing because it let us players get recognized for something more than just football," he said. "I'm not very popular, but people have noticed me a lot more for the interview."
In addition to regular questions about the players' lives and favorite things, the 40-question bank also included some more unique ones, and a Bean-Boozled activity.
"My favorite question to answer was what food combination is bad, which I said was peanut butter and waffles," senior and captain Cole Hardin said. "I wouldn't say I've been recognized more because of the video, but I liked being able to let people know more about me."
As part of his role on the coaching staff, Ellis said he makes it a priority to let the general community know more about the players and what they do each week.
"It is my goal to publicize and advertise these student-athletes that we (coaches) see every day, not just as football players, but as the authentic leaders and hard-working young men that they are," he said. "A lot goes unseen behind closed doors and we want to give a little glimpse of what happens leading up to Friday night."
Click the link to view these videos: https://www.youtube.com/channel/UCHMm-wSHnwsuRZjtk_A2nKg/featured
Leave a Comment