Key Club's Trick-or-Treat Ritual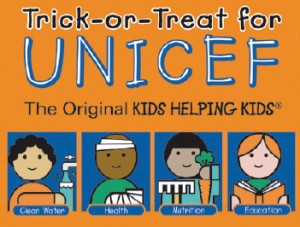 Emmeline Tran, Staff Writer
October 28, 2014
Halloween is right around the corner, but Key Club isn't trick-or-treating for candy. They're trick or treating for money to save lives. Every year Key Club does the UNICEF Trick-or-Treat fundraiser where each participant gets a rectangular box to collect money in. On the box there is all the information you need to know, like how much money can save a life. Every penny earned will be sent to regions where children need the most support, such as Syria or Iraq.
"Trick-or-Treat for UNICEF is one of my favorite Key Club projects. The members are so energized and pumped up to help their global community. I love seeing other people fall in love with service and helping our world. Last year we made over $1200 in just one month," Key Club sponsor Corey Nieman said. "This provided vaccinations that saved the lives of over 650 mothers and their future babies. I hope we match that total this year!"
To save a mother and her future babies lives all people have to do is donate $1.80. That's a very meager amount of money that many people can donate. A grande sized Pumpkin Spice Frappuccino at Starbucks costs $4.55 without tax. You could save at least 2 lives with the amount of money that is usually used for one drink that will last you around 30 minutes. When we think about all the money that we spend on unnecessary objects and add up all that money we could save so many lives and still live a very healthy life.
Many Key Club members have been using the most common tactic for getting donations, which is by flat out asking for a donation, but some are getting creative with this fundraiser. Member Eric Li made an inspiring speech about what the Trick-or-Treat fundraiser is up until the point when his ringtone went off. Everyone in his class broke out into laughter and from that entertaining presentation he got quite a few people to donate to him. Other tactics that are  being used are doing a silly dance, explaining what this fundraiser does, and in some cases consistently asking someone until they finally donate.
"All you have to do is find a way to present your cause in a friendly or humorous manner. For me, that's drama. Once you have everyone in a good mood and aware of your cause, ask for a donation. Even though they don't particularly care for your cause, they'll sometimes still donate cause you made them laugh," said Li.
The Trick-or-Treat fundraiser is a month long fundraiser sponsored by Key Club organizations where you can help save lives, with a very small donation, on the other side of the world where they don't have the benefit of receiving the vaccinations that they need.The last day for donations is October 31st.
"It's amazing that our club is saving lives and I'm so proud of our awesome members for doing such a great job!" said Key Club president Frankie Scarborough.