Student Profiles: Mike Thibert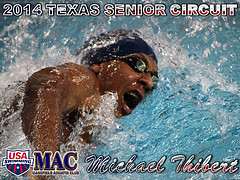 Danielle Cunningham, Staff Writer
March 4, 2015
Junior Mike Thibert has paved his way to be one of the best swimmers on the varsity swim team. Recently, Thibert's hard work has paid off when he placed first in state for the 100 freestyle and fourth in the 50 free. These accolades prove the ambition Thibert has shown over the many years he has been swimming.
"I mean, I swam before I walked," Thibert said. "My mom would take me in the pool with her and I always kind of enjoyed it. After a while of doing lessons and stuff I figured why not race people. At the age of 5 I started swimming competitively."
Before school the swim team practice starts at 5:45 in the morning and ends around 7:30am. After school, the practices go from 4:00pm-6:00pm. While this practice may seem tedious to some, Thibert has managed to use it to his advantage to practice his array of events.
"I compete in mainly sprint style events like the 50 free and the 100 free," Thibert said. "Occasionally, the 200 free and any hundreds of stroke."
This star athlete does not only spend his time in the pool, but also manages to balance extracurricular activities.
"Right now all I'm doing is swimming and JROTC, but in the past I've done others," Thibert said. "I wanted to have a back up plan in case swimming or athletics didn't work out and I thought the military would be a good choice."
As for his social life, he has found a way to keep it simple so it doesn't interfere with his hectic swim schedule.
"I tend to socialize with anyone on the team, not really anyone outside of it," Thibert said.
Even though there has been a lot of excitement in his present swim career, Thibert still continues to put thought into his future plans as an athlete and everything else he would like to accomplish in life.
"I would like to pursue swimming into college and maybe a couple years as a pro athlete," Thibert said. "I want to be a pediatrician. I plan to go to a college of my choice for four years after high school and then after that go to medical school, get my degree, and open my own practice."