Student Profile: Collin Clark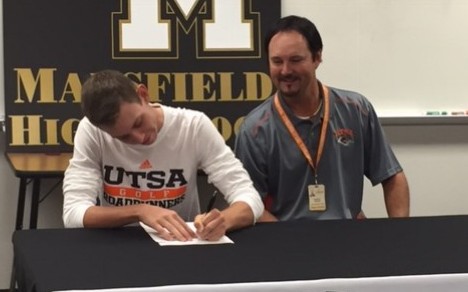 With every swing of the club, you can easily tell senior Collin Clark has love and talent for the game of golf. The unexpected journey started at a young age and it eventually lead to a full-time passion. Clark found his niche thanks to his father.
"I started playing golf when I was 4 or 5, but I also played baseball up until 7th grade when I decided to play golf full time," Clark said. "My dad was the one that introduced me to the game by taking me to the driving range to hit golf balls."
Clark just recently signed with the University of San Antonio on a golf scholarship.
"I signed with the UTSA after I had a meeting with the coaches and saw their great interest in me, which led me to decide that was the place for me to go." Clark said. "Picking the right college was actually extremely difficult because of the sheer amount of options. I visited schools all around the country from Florida to Arizona and they're all so different that it really makes it difficult to pick the right place until you find the feeling it's where you want to spend the next chapter of your life."
Outside of golf, Clark enjoys oral interpretation (a branch of theatre), basketball, and ping pong. All sports with a ball in them practically, watching Marvel movies and hanging out with his friends (if he doesn't have golf practice).
"I'm a super nerd and love Marvel and Star Wars. Science is super fun to me and one of my more interesting classes," Clark said.
As one of the many seniors going off and starting a new stage in life outside of our world in Mansfield, Clark swings some great advice, especially for those planning on pursuing a college career for sports.
"If you can afford it, visit as many schools as possible because you never know which schools you're going to like the most. Never in a million years would I have expected to like UTSA, but upon visiting it I realized how awesome it was," Clark said. "Now all colleges are awesome, that's why it's college, but finding the one that fits you and what you want to do with your life is far more important than what that name at the top of that acceptance letter is."
Leave a Comment