Junior Spurs Black Student Association Involvement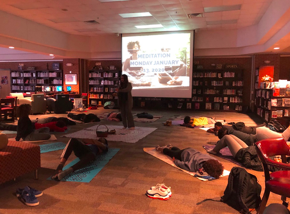 While the yellow lights dimmed into darkness, Black Student Association's founding president and junior Kendall Fields helped unroll the colorful mats to form a circle. As she laid onto the mat, she listened to the meditation instructor softly speak with the smell of an incense stick wafting in the air. Her mind wandered as her limbs relaxed. This was a moment for her and her friends to breathe and relieve from the stress of the world; this was a moment for them to come together as a family and community.
After noticing the school's little involvement with Black History month, Kendall created the Black Student Association, which offers students the opportunity to learn about their history, culture and form life-long skills.
"I was learning more about my culture and I wanted to do something about it," Kendall said. "A lot of us don't know about history or don't know each other and it's important that we come together."
After Kendall and vice president Samone Jones (11) discussed creating the club, Samone said she supported the idea because it would celebrate diversity.
"I knew (Kendall) was going to do it because she's just that type of person with that dry stamina," Samone said. "If she wants something, she's going to go for it."
There are currently five officers – president Kendall Fields (11), Samone Jones (11), treasurer Dana Danso (11), secretary Shalvar Nkea (11) and historian Elijah Afolabi (12)- who helps organize and plan events.
"We're really proud of all the support that we've gotten through the student body," history teacher and sponsor Tanya Richards said. "(We're also proud of) all the activities that we've been able to offer to kids who would not normally receive those kind of services like mental health and meditation."
The club is involved with many events: adulting classes such as how to fix a tire and how to do taxes, mental psychologist meetings, raising salvation army donations and more.
"My favorite part is having the African American students on our campus feel like they have a place where they're not judged for being different and where they feel understood and comfortable," Richards said. "They can express themselves freely in the Black Student Association, whereas normally, if you're a minority kid, you kind of go along with the norms."
Meditation mentor and wellness consultant Nikisha Patton Handy is one of the instructors involved with the association, who hosts meditation meetings once a month.
"The formation of the organization, and the fact that they are committing to engaging in what creates balance in their lives shows the maturity and intelligence of the group to strive to find and practice what they need to achieve collectively," she said. "It's incredibly heart-warming."
The club is non-exclusive and is open to new members but has a $25 fee to help pay for shirts and events throughout the year. They usually meet twice a month, but it can fluctuate.
"I'm glad to see that all of us are coming together," Kendall said. "Last year, we were fighting, but it's like we're a little family (now). I really like seeing that anybody can come in and just talk."
Leave a Comment