Hargrove Sets District Bowling Record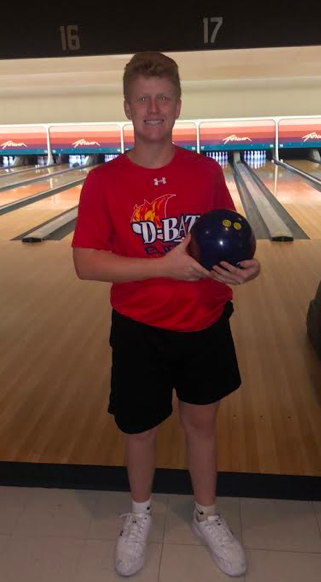 Taking two deep breaths, senior Hogan Hargrove eyes the lane, lining up with the pins. The bowling ball waits to be thrown toward them, with the intention of knocking each over for the always-desired strike. He bends his knees once – the same as each time before – brings his arm back and releases the ball. Now, there is nothing he can do except watch the play go through. Time slows as he watches the ball travel its 60-foot journey toward 10 pins in a triangular formation. And then… they all fall over and time goes back to its normal speed and his teammates pat him on the back for completing a 263-point game, his second game in a row over 250.
After setting a district record of a two-game total of 530 points and two games over 250, Hargrove will continue to improve his skills and set new goals for himself in bowling.
"I was in shock (when I realized what I'd accomplished)," Hargrove said. "I've bowled better before, but not in a school match so I thought it was really cool and an exciting moment for myself."
In addition to his new record, Hargrove is also in first place in the district for individual bowling.
"Hogan is a focused bowler; he gets in his zone when he is bowling," team sponsor and attendance clerk Brooke Monroe said. "With that said, he still cheers on his teammates and encourages them all. He is very humble when it comes to his bowling achievements. The record he broke is a big accomplishment."
Though this was a big moment for Hargrove, this new achievement will also help the team as a whole in gaining recognition throughout Texas.
"It meant a lot for me and ultimately the team too," he said. "I feel like with me doing that, other schools around the state are now seeing our name and are scared for regionals and even for state."
Hargrove said the team, brought together by playing baseball together as well, has good bonds, which will help them in tournaments.
"I've made a really good relationship with the team," he said. "I think with us knowing each other like we do, we have a really good chemistry moving forward in the season."
While the team and his natural diligence play a strong role in what drives Hargrove, there is one other major influence in his life as well, which has led up to this moment.
"I've been bowling my entire life," he said. "My grandpa taught me how to bowl when I was young, and when he died, I just wanted to carry on his legacy."
That legacy will continue to grow as Hargrove becomes more ambitious.
"There is a future for me in bowling," he said. "I'm going to continue to bowl as long as I can. I think I can achieve some good goals moving forward with this."
Leave a Comment