College Corner: Texas State University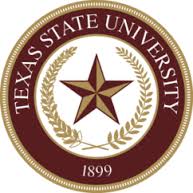 Welcome to College Corner, a new series where we will profile colleges and universities with the hopes that one may spark your interest. This week we will feature Texas State University, the fifth largest school in Texas.
Location: San Marcos, Texas
School colors: Maroon & Old Gold
Mascot: Bobcats
Tuition: $9,516+
Total cost of attendance: $21, 260
Undergraduates: 31,005
Size of campus: 455 acres.
Offers: 97 bachelor programs, 87 master programs, and 12 doctoral programs.
Most popular majors: Multi-/Interdisciplinary Studies, Business Administration and Management, Psychology
Famous alumni: Former President Lyndon B. Johnson and George Strait.
For more info check out their website: www.txstate.edu