District Installs AIPHONE System to Improve Security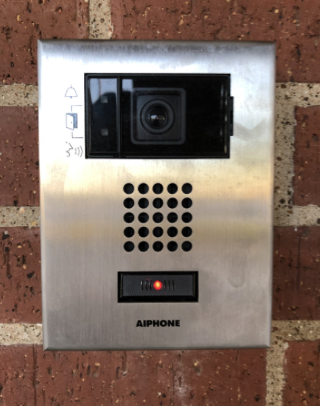 To add another layer of security, the district installed the AIPHONE Intercom System April 8, which requires students, visitors and employees to ring a bell and show an identification card to a camera to enter the front entrance during 7:55 a.m.- 2:30 p.m..
"It is an extra line of defense," school officer John Godwin said. "Safety is no accident, so the more precautions you can put in place, the better it is for the student body, for your protection as well as everybody in the building."
After the district leadership team, police department and school safety committee installed the intercom system in elementary, intermediate and middle schools, they enforced it in all high schools in the district.
"(The bell) was already here all along, but we are just now using it," receptionist Patricia Broderick said. "Sometimes if someone couldn't figure out how to open the door, they would ring it and we would talk to them, but we weren't using it to unlock doors before."
To gain access, teachers have magnetic key cards, while employees and students have school IDs to show a camera. However, other visitors need to communicate with the front office.
"If you're a visitor like a parent, then we'll ask if we can help them and they're going to tell us what they are here for and if they have a student here," Broderick said. "If there is someone coming off the street who has no business to us here, we are most likely not going to let them in."
Because the doors only open for ten seconds, the front office advises each student to have an ID already out.
"If you have to stop and dig through your bag, you're just holding us all up," Broderick said. "It would be better for everyone if they are ready to show it. It'll save them a bunch of time too."
The front office also asks teachers who are expecting visitors or anyone ordering through businesses, such as DoorDash or UberEats, to provide a full name for the front office.
"Shoot us an email beforehand," she said. "If they know they have a former student coming, let us know ahead of time so (we know to) let that kid in."
Yet sophomore Ashley Khuon said the system is somewhat inconvenient, especially if a student does not have a school-issued ID on them.
"Personally, now that I realize how many people come in and outside of school often, it might be time consuming," she said. "Maybe people have an emergency and this will hinder that process going in, but it does secure the school and provide more safety."
Junior Juliana Neniel said the system will also help with safety as it may prevent students inside from letting people outside into the school during the day.
"There are some shady people out there," she said. "It makes sense to have to show your ID especially if you are a dangerous person like a criminal."
Leave a Comment