Book Review: Anatomy of a Boyfriend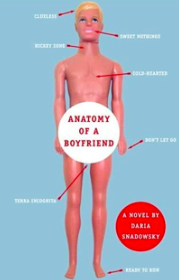 With the school closure caused by the COVID-19 pandemic, I have had a lot more time to read, a hobby I find great enjoyment in doing. One of the books I recently finished is Anatomy of a Boyfriend. I know it sounds sappy and lame; that's what I thought at first too. But as it turned out, it delves deeply into some serious and mature aspects of a new relationship.
Though the book is overall an 'easy read,' it is definitely a young adult book. The plot follows a senior girl's first relationship; how it blossomed from an embarrassing moment, then weeks of email correspondence and learning how to transition into something more physical. The sexual parts are written in detail, but it is not over sensualized or dramatic. Instead, it describes the reality of 'first times' and what those experiences mean to a person, both physically and emotionally. But that is not the entirety of the book. It is truly eye-opening, emphasizing the ups and downs of a relationship, and how both people should grow from it and benefit each other. One major aspect of the storyline is both of their college dreams. The girl, a straight-A, perfect GPA student, had always known what her future would be… until she met this boy and fell in love with him. She must then decide whether to go to her dream school, perfect for her goals, or follow him to ensure a solid relationship. 
I felt myself relating to the book in so many ways. I saw myself in the girl, who cared so much about her studies and her own set of personal 'rules,' until she met a boy. The same situation happened in my life when I met my boyfriend. It has not ruined my life; it has just taken me on a path I did not expect, but I still would not change anything. Many of the experiences and situations described in the book are familiar to me, so I am able to put myself in the story, something I have always loved in a book. If I can place myself in a story and pretend to live that life, it ends up meaning so much more to me. That is another reason I find this book so compelling and would recommend it to others. For many seniors in committed relationships, they are now in the time period of facing the decisions of whether to continue, into a long-distance relationship. Even as a junior, I myself find myself worrying about what I will do when that time comes, whether I will choose the right college for me or for my relationship. This book – I won't say what the outcome is – is just one of ways in which a long-distance relationship in college can turn out. 
I feel that this book, in one word, is relatable. Even if a reader is not in a relationship, it will open up the reality of what a relationship will entail, which is important for anyone to understand. And for those in a relationship, it should be pretty eye-opening to what may come or how their life may have looked in different circumstances.
Leave a Comment