Welch Recognized as Teacher of the Year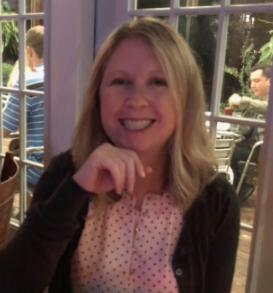 She walks into class late, tired and miserable, but says nothing about it as she starts her exam. Her professor notices something is wrong. He can tell things in life have been rough for her and asks her if she is okay. He jokes, making her laugh a bit to calm her down as she takes the test. History and Academic Decathlon teacher Dawn Welch said she has never forgotten this act of kindness. She carries this with her into teaching and reminds herself daily she never knows what a student is going through.
Because Welch was recognized as the school's teacher of the year, she will have the opportunity to become the district's secondary teacher of the year this spring.
"I was shocked; completely shocked because I felt like there are a whole lot of really amazing teachers on our campus, so I didn't really think I had a chance," Welch said. "It actually made me tear up."
After teachers submit nominations, the faculty votes on a list for the school's teacher of the year. That teacher is then eligible to be district teacher of the year and, if selected at district, then he or she is eligible for the state honor.
"Lots of it is just recognition, but it's nice because in education there is not a lot of praise," Welch said. "There's usually a lot of criticism, so teacher of the year means a lot because it can remind teachers one benefit you get is recognition when you do work hard."
History teacher Lance Davis said he ran to Welch's room to give a big high-five and was happy for her because she had earned the award.
"Some of the qualities Ms.Welch has would be her willingness to go the extra mile and work with all the students to help them reach their goals, whether it be passing an AP test, human geography, world history or helping with goals with academic decathlon or UIL," Davis said. "She also has helped host meets here as well."
Outside of academics, Welch said one of the reasons she likes being a teacher is her conversations with students.
"I learn as much as you learn from me and it is really nice to get things from a different perspective," she said. "I don't feel like you get that in many jobs, so if you take all that in, you really learn a whole lot about people."
Junior Colby Cunningham, Welch's student, heard the news on the announcements during band.
"Ms.Welch was chosen by the fact that she connects with a lot of kids she has," he said. "I spent an extra four hours in her class just chilling after school this semester just because she's a nice person to talk with."
In her 18 years of teaching, Welch uses her compassion, skills and life experiences to help continue her career.
"I thought if I could take what skills I do have and that seemed to be the easiest for me, then I could turn it around and use it for teaching," Welch said. "I can't think of a time I didn't want to teach."
Leave a Comment